Love it List: fall edition
I hope you all are having a great week. It has been in the 90s every day here in IL, so not very fall like but I personally love summer so I'm trying not to complain too much. I thought I'd start a little series where I can pop in quickly and share some favorite finds. So here is my Love it List – fall edition:
How cute is this wreath that my friend Anika made? She's a creative genius and she shows you exactly how to make it, and even has a video!  The best part is, it cost less than $10. Check it out HERE.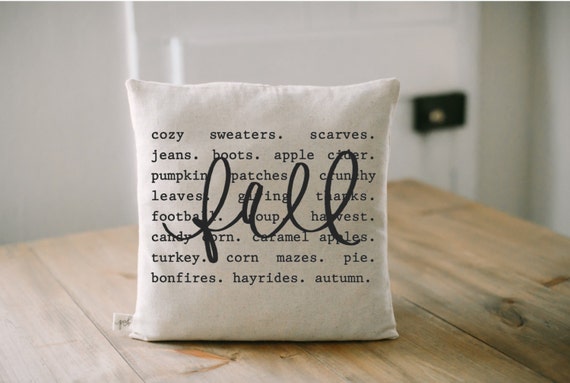 More Fall Pillows
ParisChicBoutique on Etsy has over 200 items listed for fall (artwork, pillows, tea towels, etc.) It was super hard to narrow down a favorite but this pillow is simple and adorably fall at the same time. Also, take a look at this post for more cute fall pillow covers available from Amazon (with most under $10 bucks!)
Pumpkin Succulent Arrangements – Tanya Slye
I found these gorgeous pumpkin succulents while surfing IG this week and my jaw about hit the floor! What a perfect way to combine summer with fall. I mean pumkins + succulents are a total win in my book. You will absolutely fall in love with her Instagram account, so be sure to take a peek.
Gather Floor Mat – Amazon
Isn't this little rug just perfect? What a great way to welcome friends and family this fall season. Available at Amazon.
Since starting this blog in January, I've met so many wonderful friends and Debbie from Chatham Hill on the Lake is one of them. She is strong woman of God and I love how she's not afraid to share her faith and love of the Lord with her audience. She is an amazing storyteller too – so be sure to check out her gorgeous fall home tour!
---
Have a wonderful week, friends! Hubby is enlisting my help over at Mouse House to clean the bathrooms – fun, fun. Then we have a busy weekend planned with a friend's wedding and my son's soccer games. What do you have planned this weekend? Let me know in the comments!
**the post contains affiliate links for your convenience. If you purchase something through these links, you don't pay any extra but I may make a small commission. thanks for supporting my blog!