How to Add "Fixer Upper" Style to Your Home – Kitchens (Part 1)
Welcome to my How to Add "Fixer Upper" Style to Your Home series!  I am super excited to give you real action steps to help you achieve that coveted Fixer Upper style, inspired by Joanna Gaines. Previously, I told you about my thoughts on creating this series. I want to equip you with the tools & motivation you need to create a home you love – without having Joanna herself come and do it!
Today we'll be focusing on the heart of the home: the kitchen.
I love kitchens. Over the years, I've had the opportunity to design over 10 kitchens whether they be for flip houses we've renovated or houses where my family and I have lived. Each kitchen was different, but each one had a common denominator: a teeny tiny budget. You see, it is my mission in life to design the prettiest, most functionable, awesomest houses – on itty bitty budgets! I must find a great deal! I cannot sleep at night knowing that I could possibly have found that faucet for cheaper somewhere else. ugh, it's a sickness I tell you. So I'm going to share my sources on where to find the super cute stuff for cheap!
But. (And this is where I struggle.) Sometimes, it is ok to splurge a little on a statement piece that will make the most impact – or on that awesome thing you have had your heart set on for years. Give yourself permission to make your house your home. However, please only do this if you can pay cash for these items. Make saving money a fun family goal – set a jar on the counter and add all your loose change. Add a colorful label "Money for Mommy's New Stove". Your kids will love to get involved and you can make it a learning lesson for everyone!
So are you ready to get some serious "Fixer Upper" style for your kitchen, while not spending your child's college tuition to do so? Let's begin!
First, let's take a look at some of my favorite Fixer Upper kitchens (* all images courtesy of Joanna Gaines and HGTV)
Did you notice some common elements in most of these kitchens?
---
wood floors
white cabinetry
subway tile backsplash
unique stove hood
farmhouse style sink
open shelving
stand-out light fixtures
lots of wood & natural elements
farmhouse-style accessories
---
Gosh, that sounds like a lot doesn't it? So let's break this down into doable steps – things you can do easily and inexpensively at first, and then things to save up for and do later.
Ok, let's focus on the easy stuff first:
1. Add Farmhouse-style accessories.
Joanna's own Magnolia Market has fabulous accessories! If you haven't checked her site out yet, drop what you're doing and head over there NOW. Tons of awesome eye candy!
bakery sign | chalkboard | EAT | clock | wall organizer | bottle drying rack* | hello |
World Market * is another great place to find affordable farmhouse style kitchen accessories just like the ones Joanna uses on her show.
1 | 2 | 3 | 4 | 5 | 6 | 7 | 8 | 9
And my secret weapon for home decor goodness: HOBBY LOBBY! I never even knew you could order online, but you can! Their prices fluctuate based on a rotating sale schedule. So for instance if you're looking for a mirror and it's not on sale this week – just wait a week or two and it will go on sale (usually 40-50% off!). Prices below are good, as of this week Jan 10-16, 2016.
wood sign | 3 tier basket | 4 bin organizer | wooden wire shelf | give us this day | cake stand
Jesus tea towel | wire hooks | glass cloche | wooden tablet stand
Ok, there's lots more places to find great farmhouse decor. I'll write a future post on more sources soon. But what if you don't have tons of money to spend right now on all new accessories? My advice is to focus on one piece that will make the most impact. Maybe it's that awesome Bakery sign from Magnolia Market or how about diy'ing a new chalkboard for your walls? Emily at Jones Design Company has a great tutorial here. Or you can always shop your house and find new ways to use what you already have!
Wow, this post has turned out really long. I'm going to sign off for now, but be sure to follow along with the series! Come back on Monday where we'll be talking about, cabinetry, open shelves & more (I think I could officially talk about kitchens all. day. long.  😉
Don't forget to follow my kitchen board on pinterest where I have over 300 pins of awesome kitchen eye candy (my husband wishes I could get a job as a full time pinner – I'm so addicted!)
How about you – do you have a goal of adding some Fixer Upper style to your kitchen this year? I'm hoping to buy an awesome metal sign and add it above my sink – just need to make a decision. If you're looking for something specific, tell me in the comments and I can help you find it. I love sourcing fun home decor (and it helps me procrastinate from vacuuming up the dog hair. again.)
Have a great weekend, friends!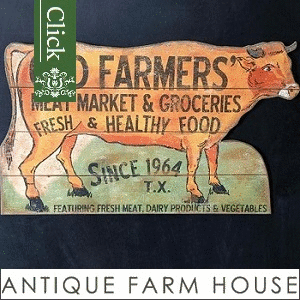 Update: Check out how to add farmhouse style to your kitchen using open shelves here.
linking up with: Meandering Mondays
(items marked with an * are affiliate links. If you click on them and make a purchase, the price you pay is the same but I get a small commission which helps me support this blog – and proves to my hubby that yes, I really can make a little bit of money from spending hours and hours blogging)