Fixer Upper Mid Century Lighting
Today I thought I'd pop in really quick to share where you can get similar looking Fixer Upper Mid Century lighting like Joanna used in the most recent episode, The Mid Century Modestly Priced House. I've been super busy sourcing all the items, but it's that amazing light fixture in the kitchen that really caught my eye!
These mid century industrial light fixtures really set the tone for the updated modern ranch vibe Joanna used throughout the house. The black metal of the light fixtures mirrors perfectly with the metal open shelves used in the kitchen. And I love how this light fixture frames the custom banquette built by Clint Harp.
So where on earth do I get these awesome mid century light fixtures, Christy?
Well, I've done some digging around and it looks like Joanna had hers custom made. But never fear, I've found some awesome alternatives so keep reading!
Fixer Upper Mid Century Lighting
Option #1 – DIY
From what I can tell, it looks like the light Joanna designed uses some type of conduit or plumber's pipe. Which is great because I've found this awesome tutorial on a DIY plumbing pipe light fixture by Brynne from The Gathered Home. She gives full directions and supply list on her blog so check it out. It shouldn't be too difficult to customize her method to recreate a similar looking light fixture like Joanna used in the Mid Century Modestly Priced House (gosh, that's a mouthful!)
Option #2 – have your own light custom made
Wouldn't it be great to have your own carpenter like Clint, or your own lighting designer? Well, unfortunately that's not feasible for most of us but ETSY is the next best thing! I recently had custom light fixtures designed for Mouse House and the entire process was a dream.
I did a quick search for industrial lighting and Farmstead Ironworks and Union Hill Trade Co offer various designs for sale and they will work with you to customize your own design.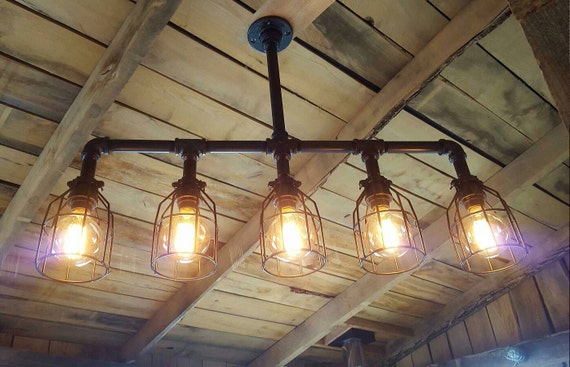 Option #3 – buy a similar fixture
While custom lighting is a great way to get exactly what you want, it can be more expensive and take a little longer to receive your order.
This light below is only $70 and available on Amazon with free 2 day Prime shipping – can't beat that!
and here's a few more similar looks (just click the image to go straight to the shopping page)

I hope this post was helpful for you in finding some similar Fixer Upper mid century lighting! I'll be posting more finds from Season 4 soon. Be sure to follow my pinterest boards for the Cargo Ship House and the Mid Century Modestly Priced House for similar items from the show.
And if you're looking for any other items from Fixer Upper or other shows or you have an image you ripped from a magazine (old school style, lol) or a pinterest pic and you need help sourcing something, just let me know in the comments. I love to track things down – keeps me from doing laundry 😉